Adding alternative app stores to the mobile marketing mix to access untapped audiences
Ramadan is a month-long observance that occurs once a year in the Islamic calendar. It is a time when Muslims around the world fast from dawn to sunset and engage in spiritual and charitable practices, where families come together to break their fast, share meals, and strengthen their bonds.
As an app marketer, it is important to understand the significance of Ramadan and how it affects the behavior of the community. The month is known for its festive atmosphere and social gatherings, as well as its spiritual and charitable practices, making it a prime time for app marketers to engage with the community.
In this article, we'll explore valuable insights and tips for app marketers to thrive during Ramadan 2023 by using Mobile OEMs to diversify their marketing mix, ensuring that your app gets the attention it deserves while being culturally relevant and sensitive to users' needs.
Unraveling Mobile App Usage Trends During Ramadan
Increased App Usage and Installs During the Holy Month
The month of Ramadan sees a significant increase in mobile app usage as people spend more time indoors and engage in spiritual and religious activities. This trend can be observed across various app categories, including: 
Gaming

Entertainment

E-commerce 

Finance 
During Ramadan 2022, global app installs saw an increase of 7%, with Muslim majority countries showing an 18% increase in app installs.
The three verticals that saw the most growth during Ramadan in Muslim majority countries:
Entertainment (37%) 

Fintech (22%)

E-commerce (17%)
Ramadan in South East Asia (SEA)
In countries such as Indonesia, Malaysia and Singapore, Hari Raya celebrations tend to be more pronounced during the start and the end of Ramadan, when the Hari Raya Puasa celebrations are held. According to data from Appsflyer,
Installs for finance apps in Malaysia were doubled during the peak of Ramadan. 

During Hari Raya Puasa celebrations, purchases from shopping apps tripled from pre-Ramadan numbers. 
With Hari Raya holidays lasting for several days in Malaysia, it is advisable for brands to concentrate their shopping promotions for this particular period. 
Social apps also saw an over 50% increase in In-App Purchases (IAP) revenue during the Hari Raya holidays in Malaysia, 

The end of Ramadan saw an increase in gaming IAP revenue, doubling from the beginning of Ramadan. 

Singapore also saw an uptick in gaming IAP revenue, with numbers more than double that of the first week of Ramadan.
This makes Hari Raya the best time to focus on revenue and user acquisition campaigns for both social and gaming apps in Malaysia.
Focus on Indonesia
Indonesia is the world's largest Muslim nation, and according to data.ai, is the 5th largest mobile market, with 7.7 billion app installs in 2022. Mobile OEMs with AVOW cover almost 70% of the Indonesian Android market, of the estimated 210 million smartphone users in the country.  Ramadan is a particularly important time in Indonesia, culminating with Hari Raya Lebaran celebrations. App growth also saw a considerable spike during this time in 2022 according to data from Adjust, as seen in the table below.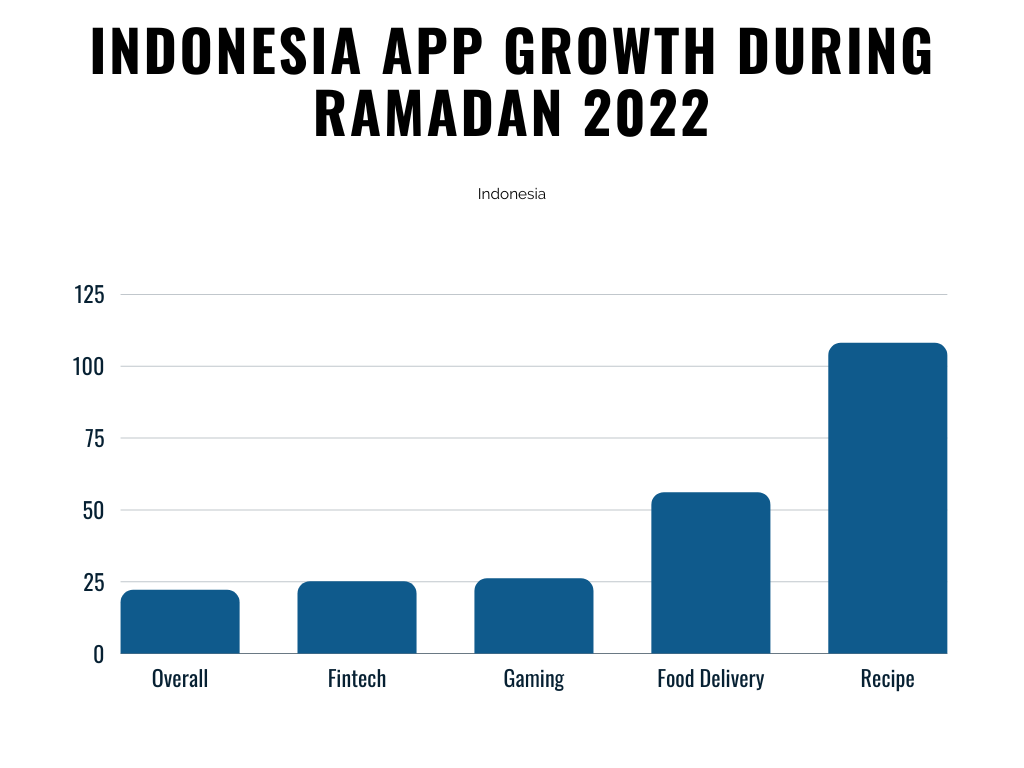 Finance apps installs and In-app Purchase (IAP) revenues both saw huge surges in particular close to the end of Ramadan and the beginning of the Hari Raya holidays.

Employees in Indonesia receive a legally mandated bonus (THR), which correlates to the increased spending during this time.
Gaming  saw similar surges in the latter part of Ramadan, and during the Hari Raya Lebaran holidays as the increased free time meant more users were downloading and playing games

Appsflyer data showed that remarketing for gaming apps surged over 4 times during this period, as developers attempted to remarket to the new users acquired during Ramadan.

Shopping apps in Indonesia saw a spike just before and at the start of Ramadan, in anticipation for the Hari Raya Lebaran holidays, before tapering off as Ramadan progresses

Shopping app revenue saw an increase in the last week of Ramadan. 

Social apps saw a 30% increase in app installs, as the holidays meant a greater focus in connecting with friends and family from all over the country and around the world, with IAP revenue spiking in the final week
Marketers for shopping apps should focus their efforts to drive installs before Ramadan begins, and then pivot to focusing on in-app deals as the Hari Raya Lebaran holidays near.
Change in Peak Usage Times
App usage patterns change during Ramadan, with peak times shifting to early morning and late evening. This change occurs as users adapt their daily routines to accommodate fasting and prayer schedules. Marketers should adjust their ad campaigns and in-app engagement strategies to cater to these new peak hours, ensuring their messages reach users when they are most active.
Tips to Boost Your App Marketing Strategy During Ramadan
Create culturally relevant content

that resonates with your audience. This includes showcasing special offers, promotions, or features specifically designed for the holy month of Ramadan.

Focus on user acquisition

through tailored advertising (ad) campaigns and promotions. Utilize targeted ads that appeal to users during Ramadan and highlight the benefits of using your app in this period.

Engage users with special in-app events,

challenges, or rewards that cater to users' preferences and habits during this month.

Optimize ad spend and campaigns

to focus on the most relevant ad formats and platforms for your target audience. Mobile OEMs and their alternative app stores provide that platform, with OEM market share in SEA standing at 67%, and Indonesia Android market share at 69%, Utilizing alternative app stores is the best way forward to optimize your ad spend.
How Can Mobile OEMs Help Brands and App Developers During Ramadan
Mobile OEMs with AVOW have a global market share of 54% of the Android market. These mobile OEMs have their own app stores for their devices, also known as alternative app stores, and resell their inventory, thus enabling mobile app developers and marketers to leverage the vast user bases they own during the month of Ramadan in 2023. Mobile OEMs get apps in front of billions of viewers globally, and with a market share of 67% in SEA, they can help mobile marketers reach closer to their app's user acquisition goals. Ramadan events create millions of daily viewers and are an excellent opportunity for app marketers to tap into markets of such colossal potential where they can get access to the most relevant users in various categories with mobile OEMs and generate user action on their apps. 
Some of the top advantages for mobile marketers to consider advertising their apps with Mobile OEMs during Ramadan – 
With mobile OEM app advertising, mobile marketers can leverage an exclusive

app store featuring per day

and specific dates with multiple advertising formats such as

video ads

,

rewarded ads

,

native ads

, and

banner ads

with unique ad placements. Plan your marketing push ahead of time, and feature the most relevant ads during the peak usage times during Ramadan. 

Get

exclusive screen takeovers

with

splash ads

so marketers can show the best of their apps on the entire smartphone screen in a video format to create instant brand awareness and interest among users. 

Make way for

Appographic Targeting

to help promote apps to users with similar interests beyond category and ownership to elevate app install rates. 

Mobile OEMs offer

customized push notifications to target high-value users

during special Ramadan events to enable app discovery, as there is a

72.71% YoY growth for gaming apps

. Send

custom notifications for dedicated in game Ramadan events

to increase engagement and In-App Purchases (IAP) spend.

Explore

PMP deals at private marketplaces

(PMPs) with mobile OEMs. Marketers can bid on suggested inventories for a specific time, such as the start or end of Ramadan, to get the best out of their user acquisition campaigns.

Mobile OEMs provide

brand-safe, fraud-free, and more cost-effective opportunities for mobile marketers due to lower CPIs,

thus offering the same benefits as 3rd party networks such as Google and Facebook. 

Mobile OEMs also offer

app store features

that provide high visibility for sales campaigns.

And the ability to

retarget users with discount codes

to increase engagement before and after the Ramadan season.
Not only do mobile OEMs and their alternative app stores offer all these benefits to mobile marketers in various categories during the Ramadan season, but are also a great alternative source to find fresh new users that one should not miss irrespective of the app category.
Seize the Opportunities Presented by Ramadan with AVOW
Ramadan 2023 offers app marketers a golden opportunity to connect with users and grow their business. By understanding the unique consumption habits during this time, creating culturally relevant content, and optimizing your marketing strategies, you can ensure your app stands out from the competition and enjoys a successful Ramadan season. Stay ahead of the curve and make the most of this opportunity to strengthen your brand and reach new untapped audiences with AVOW.
Book a consultation with us today and learn how mobile OEM advertising can amplify your user acquisition goals!